Installing the operating system
Previous considerations
The virtual machine must be turned off to proceed with the installation.
The first hard drive will be formatted and any information that previously there be cleared.
During the process it is not possible to customize the partitioning of the first virtual disk.
Other hard disks are unaffected by the installation process.
Installation Screen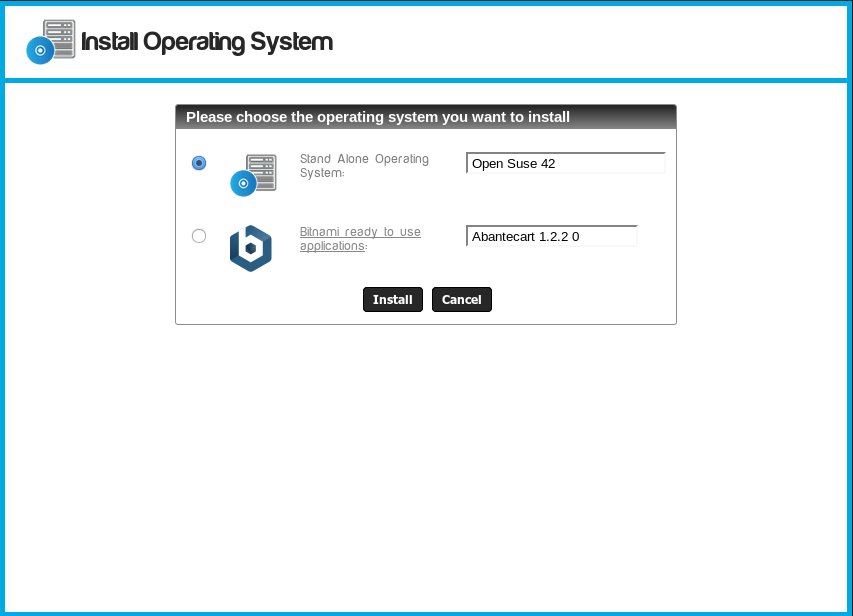 You must choose whether to install only the operating system or a Bitnami application.

Choose the desired operating system and click on Install.

Base Operating systems available
BITNAMI applications
If you want to quickly install an open source system we are integrated with the BitNami application suite. These are a set of scripts that allow the automated installation of over 100 applications available for free. These applications are installed using Ubuntu Server as the base operating system.

More information about Bitnami applications.

Post-Installation
When you have installed the operating system, can access and make use of the virtual machine. Remember that the operating system manage the first virtual drive, the other virtual drives are a system administrator responsibility.


It is important to keep the browser open throughout the process, because after you copied the operating system to the virtual machine, additional configuration is required. For more information, visit the manual for the operating system of choice.